CAMBRIA HERRERA
Interview by Emilly Prado | Photography by Celeste Noche
March 31, 2019
Name: Cambria Herrera
Pronouns: She/Her or They/Them
Medium of choice: Theater, community organizing, acting, and healing work.
Background: I'm from California. I am Xicana.
Jam of the Moment: Girl Blunt by Leikeli47
Portland artists whose work inspires you: Alex Ramirez de Cruz, an actress whose work I always recommend. El Ballet Folklórico Academia Gabriela which is a group started by my friend and is a uniquely-enduring type of art form that is a mixture of colonizers' work and indigenous work. My friend Karina Ramirez Velázquez is a part of this school and I'm going to her performance on March 31st. Anya Pearson just wrote Made To Dance in Burning Buildings and it is the best play I've seen in Portland. It's her personal story of being a Black woman, having experienced sexual assault at a young age, and her journey of recovering. It incorporates ballet, spoken word, theatrical storytelling, and it's the best representation I've seen of PTSD, anxiety, and depression.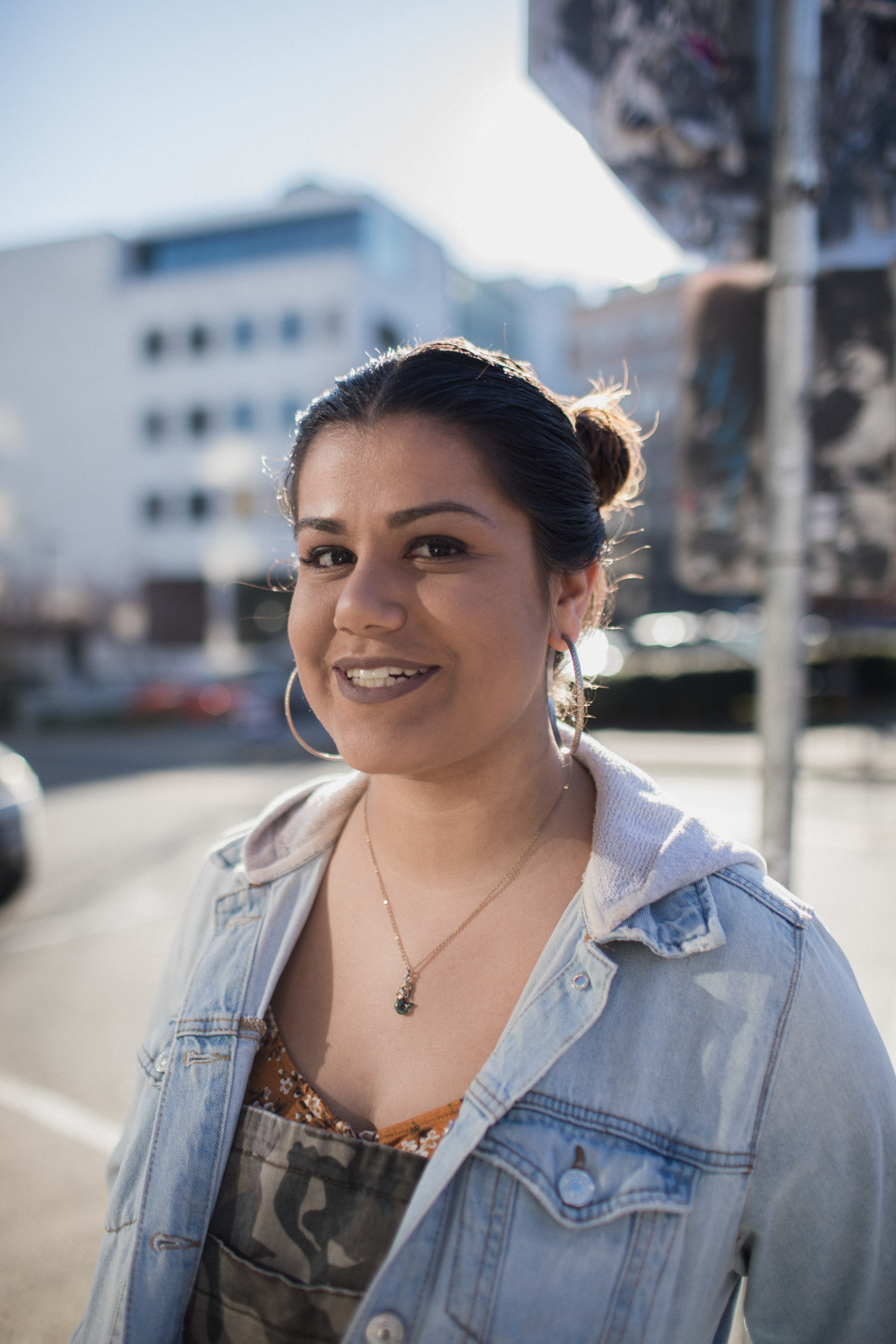 "it's especially valuable to get to say on a stage as a person of color or a person of underrepresented gender and sexuality because we are constantly fed one narrative in mainstream media."
Theater, at its best, feels like the perfect fusion of home and health for Cambria Herrera. Today, Cambria works tirelessly to foster that same healing sense for others via facilitation of the Women of Color in Theatre Collective while also juggling opportunities directing theater, acting, and now, assistant-directing her first ever opera. Her place in the world of performing arts is firmly carved out, but it wasn't always so clear—especially when she was first introduced to acting in middle school. She credits a breathtaking San Francisco ballet experience during teendom with sparking an unending desire to also perform and create. Cambria looks forward to a changing, inclusive future for theater in Portland and far beyond where she can continue taking up and sharing space with other like-minded BIPOC artists.
Can you tell us about your artistic process and artistic journey?
I started theater as a kid in junior high and never had a lead role. I was always just part of an ensemble, but I knew it was something I loved. I would sit there and write notes about what the director was saying and think maybe that was something I would want to do, but never felt empowered to. In my freshman theater class [in college I] realized this was what I was meant to be doing.
I really connect with the holistic nature of theater. There is so much to learn about your body, mind, soul, history. You don't feel ever like you're stuck in one place or routine. Every six weeks, we're doing a new thing, and that appeals to me.
I've recently grown a lot in being really intentional about choosing what type of work I take. I pursue the artistic process with a lot of jokes and fun, and approach extreme emotions—extreme fear and extreme sadness—that I've never felt permission to explore in real life. That is what excites me about doing theater; I feel like I come alive!
What inspired you to start the Women of Color in Theatre Collective?
I heard a lot of women of color say they'd also struggled finding roles [and] their place in theater. Often, you'll get cast and be the only person of color, and you'll feel like you stand out and look awkward or you might be asked to play a specific role just because of your race and know you're the only one that was asked. And then sometimes you get asked to play races that aren't yours. That's something I've come across a lot—the general brown-washing of people in theater.
I have steered away from acting and fit more of the role of director and community organizer. I always think of plays to direct that feature stories about female experiences, Black and brown experiences, and events that cater specifically to us.
[The collective] came out of me whining in my room, being like "I don't have resources!" I put out a couple of feelers on Facebook and then [Advance Gender Equity in the Arts] (AGE) approached me and asked, "Could we hire you to create this type of community?" So that's what I've been doing. It's been amazing. It's a dream come true. We've had three events pairing young artists of color with mentors of color to exchange resources and stories. That's one of the most empowering things—just knowing there are other people going through the same thing as you.
Can you talk a bit about body positivity in theatre?
Health and wellness are at the forefront of my mind because that's what I appreciate when I'm working with other artists. Acting is a really shitty job a lot of times; it makes you feel bad about yourself and it's very vulnerable work.
I like to address that through providing movement and breath work for my actors. I do a check-in at the beginning of rehearsals to see where they're at in their day. This also helps with safety. Sometimes people feel they can't bring up [issues] because you're getting paid for your body and a lot of times try to adjust instead of recognizing, "I'm having cramps" [or] "I'm having a bad day because of my arthritis." These are things I experience and appreciate when there's space for me to bring up.
The body positivity workshop on my website is a project I came up with when I was thinking about how when I get ready in the morning, I attack my body 100 times. I had the opportunity to feature my work at PDX Latinx Pride and brought different folks of color together—some were queer, of different gender identities, and asked them about their process of getting ready in the morning and what thoughts came to mind. [They were] like, "Ugh, I have that fear too," "I hate crop tops!", or "I love when I get to wear this," and everyone was feeding it into each other. Then I helped them make a performance out of that.
This is something that resonates for everyone to different capacities, but it's especially valuable to get to say on a stage as a person of color or a person of underrepresented gender and sexuality because we are constantly fed one narrative in mainstream media.
How does Portland and the arts community here inform your work?
Portland has challenged me in being a much more laid-back community than where I'm from in California. Coming here was culture shock. The bluntness I was used to in the way you go about moving through power systems is different. I find more passive-aggressive natures here. I find things take more time here, in general.
I've experienced very different types of racism. A lot of racism here comes from ignorance whereas in California, I feel like racism comes from experience or passed-down trauma between generations. It's been a huge learning curve and I definitely think that has led me to serve community more and recognize the gaps of resources for the people of color.
I also think Portland is up for new ideas in a way that other cities aren't. Wanting to sell our herbal blends is something we're empowered to do because we're in a city where everyone has a new business!
And I love theater in found spaces (that's a term in theater where you bring a show to a place), so I've done work in a laundromat, in a library, and I know other people doing that same work in and around Portland. I feel empowered by Portland to explore, especially in the summer when the sun makes it beautiful.
What has your experience been as far as the accessibility of theater spaces? Culturally accessible as well as other important aspects of accessibility.
I could not have a job in 20 years because no one is going to theater under the age of 50! Theaters are completely inaccessible, culturally, to people of color [and] to people with disabilities.
My roommate (she acts) was just telling me they had to perform for white donors and were told, "We have to perform for the people that make this production happen. They give us the money." That relationship—put a brown or Black person on stage 'cause you pay me—that is most power dynamics [and] that makes me not want to be involved in the art. I know really prolific artists who have quit because of this culture.
There has to be a change coming. I am trying to make that change happen with other like-minded people, where Black and brown artists are able to create work in spaces that feel comfortable. And with money, because we deserve to get paid.
But theaters, they're so stuck in a routine [and] every detail is micromanaged in a way that makes money. That's not what I'm interested in the foremost. I want to get paid money, yes. But more importantly, I want Black and brown people to feel safe.
What are you working on currently and what's next for you?
I'm assistant-directing at Portland Opera in [As One], a two-character opera about a transgender person and their transition. I'm acting in Peter/Wendy [as] Tiger Lily which I'm excited about and scared! Then in June, I'm directing Romeo and Juliet—the play that started it all. It's the first time I'm directing Shakespeare and it's going in Newberg where I went to undergrad.
Me and my roommates are also starting our healing project—W.O.K. Blends! W.O.K. stands for Women of Knowledge and we're rolling and selling herbal cigarettes.
For the AGE collective, we're going to have a stage reading in June to feature the work of all of us that have been mentored in the past few months and celebrate our mentors too.
How can Portland support you and/or your community?
Portland, in general, can work to be okay with the uncomfortable regarding race. That would help me a lot in my work as an artist. Even though we come from a liberal city, there's just not room for nuanced discussions about sexuality, gender, and race. We're having basic conversations to protect people's' feelings over and over again.
And then putting your money where your mouth is or putting your actions where your mouth is—actually investing in businesses. Going to events that you talk about being for and not only going when they're led by people you feel comfortable with, or at a location you feel comfortable with. If you believe in the efforts or want to have fun, it should be able to be in any part of town. I've heard people telling me, "I won't go to Southeast [or] North Portland." You've got to be willing to get outside your comfort zone.
And also, show up to my plays! And make plays with me if you're a person of color.