MOHANAD ELSHIEKY
Interview by Emilly Prado | Photography by Celeste Noche
May 26, 2019
Name: Mohanad Elshieky
Pronouns: He/him
Medium of choice: Comedy
Background: I was born and raised in Libya in 1991 with my family. I moved to the states in 2014 to Portland. I started doing stand-up comedy in 2016. It's not related to anything I've studied, but it was something I was always very interested in. I decided to pursue it after my public speaking professor was like, "Hey man, you should definitely try stand up." I'm glad I took his advice.
Do you karaoke? Absolutely not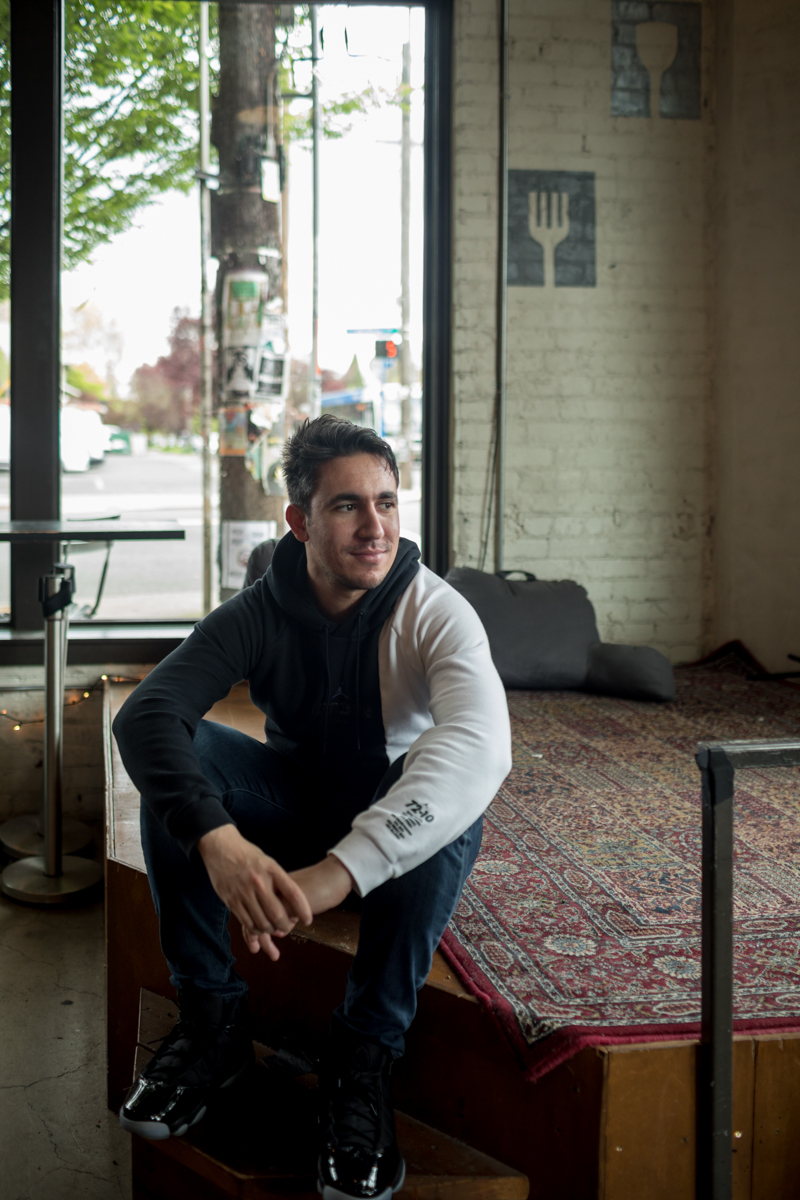 "I feel more freedom. At the end of the day I'm getting on stage and talking to people, and that's one thing a lot of people can't do."
Mohanad Elshieky's first stage was his childhood living room. As a kid he'd write sketches and short plays "forcing" his four younger siblings to take part in performances for their parents. Detective stories were at the forefront, as were frequent family roasts. Today Elshieky writes less about Sherlock Holmes and more about personal topics ranging from disdain for the overly-talkative Uber driver to feelings about an increasingly-divided political state. Centerstage means performing for audiences in Portland, Oregon and far beyond, thousands of miles away from his hometown of Bengazhi. The asylum-seeker tried comedy on a whim a few years back and it's been working out nicely, having been named runner-up in Portland's Funniest Person contest and earning a spot on Team Coco's "Comics to Watch at the New York Comedy Festival" list. His stand-up is hilariously witty, unabashed, and not-to-be-missed, so try and catch him while you still can.
I read that you prior to comedy, you had a radio show in Benghazi. How did you get involved with the medium?
As part of the Arab Spring [in 2011], a lot of people got into media and one idea was an English radio [station] or, at least, show. We have radio shows in Arabic that people listen to in Libya, but wanted a show made by Libyans that people abroad could listen to. There was a lot of media coverage, but it was very biased, so we we wanted people from the city itself to talk about what they do and go through. There weren't many people speaking English fluently back then, so the guy who started the radio station approached me. Then me and a friend started hosting a show three times a week. We would basically talk about any subject. We'd take calls from people and it was very open format. We got listeners from abroad too, so it was really cool.
That reminds me of your TEDx Talk where you mention the privilege of comedy and of storytelling in general—who has access to tell and frame stories. Can you speak about how you use comedy to share your own narrative?
It's very hard to get your point across to people with how heated politics are now. There's a very huge divide. So, if you want to talk to people about politics or your point of view, it's hard to make it come across. But comedy is one way to do it. First, you're making people laugh but, hopefully, you give people something to think about when they go home. That's what I try to do. I try to make my comedy more smart. Yeah, some jokes I have are silly, about nothing—just for fun. But some of them are like, "This is the point of view I have and I would like you to listen to it."
How do you approach writing new material? Do you have a notebook you carry around for all your jokes?
I have a lot of notebooks but most of them are empty. I just keep buying new ones for some reason! The way I write jokes is that I don't, really. Only a word or two to remember the joke, or something I don't want to forget. I walk around and talk to myself out loud because I always imagine myself on stage. It helps me because on paper, I just keep going and don't have a sense of how long a joke has been going. I also think I'm one of those people [that when] I talk to people, that's where most of my funny stuff comes out. So I talk to myself, I guess, and see what comes out.
What's something you'd like to see more of in the comedy scene, locally and/or nationally?
People feeling comfortable enough to tell the jokes or stories they want to tell. Sometimes you have specific things you want to talk about but you feel you have to go mainstream. Like 80 percent of stand-up comedy is either white men or women and sometimes you try to lean into that.* Like, "Maybe I should talk about Tinder instead of my background because that's what people seem to like." It's not just making material [relatable], it's [saying] what they assume people want to hear from them rather than what they want to say which sucks and, I mean, I get.
Sometimes artists of color, in stand-up especially, will talk about their families or themselves. In comedy, it's all about making fun of yourself, but they go so hard and I'm like, well, you're just trying to make white people laugh right now. Like, "Oh, my mom has an accent and she speaks that way." I'm not into that. It should be, "I'm making fun of me but I'm also making fun of you—we're all getting made fun of here. I'm not gonna be the butt of the joke."
When I look at my earlier stand up, I was making too much fun of myself and my background—at the expense of me. Sometimes I [didn't] even feel good doing specific jokes, but it made people laugh. And then I was like, "Eff it. If it doesn't make me feel good, I'm not going to do it." You just have to be true to yourself. I just wish people were comfortable doing that, which is obviously easier said than done.
*Editor's note: there's insufficient data on stand-up comedy demographics, but here's one report on SNL's dismal host stats from 2016.
What's your relationship to Portland like and how does it inform your work?
Portland probably made me a stronger person, but not because it's a good city to live in. You have to struggle with a lot of shit here and it's the same as me saying living in Libya made me stronger because of war. It doesn't mean it's good. It just helped make me more resilient, I guess.
To be honest, I can't wait to leave—mostly for my mental health. Living here is really rough and people don't see it [because] it's viewed as a utopia. Once you try to complain or say anything, people jump at you like, "What do you mean? It's perfect! So you want to live in the South?" And I'm like maybe I would rather deal with overt racism than passive aggressive bullshit.
White liberalism is my poison. I hate it so much. People try to focus on specific stuff they want to change. This stuff is good and, yes, we should be talking about them, but it kind of gives people the path to not think about other stuff—focusing on smaller stuff rather than the bigger issues. Like I get a lot of people who mispronounce my name all the time and I hate it, but it's not my biggest struggle. People are like, "I had a friend the other day who was like 'I know this guy who's a comedian named Mohammed or something' and I was like 'No, his name is Mohanad, with an N!"
I'm like, "Congrats. Wow. You corrected my name to someone. So, how about that racist family you have? Have you talked to them recently about how they voted for Trump when you were just eating dinner with them?" Instead of correcting my name to people who are probably liberals as well, who think the same as you, maybe you should try to do more. They think, "I did this one small thing for you and I hope that changed your life," and I'm like, "No, it didn't. Thank you, but also this is the bare minimum. I would have corrected your name to someone else too."
What is something you've learned by doing comedy?
Comedy made me have way thicker skin. I use it to respond to almost everything—like trolls on the internet. I get a lot of those. It used to bother me when someone used to say something to me and now I don't care. I'm just like, "Okay, I'm just gonna turn you into a joke."
It made me not really care about what people think that much. I feel more freedom. At the end of the day I'm getting on stage and talking to people, and that's one thing a lot of people can't do. You want people to laugh and then if that falls flat you're still on stage. And you still have five minutes to go. Most of these people don't or can't do it, so why should I care that much? That's a good thing because I've struggled with that my whole life—what people think and how they view me. But with comedy, as long as you're just putting out good, you don't really have to worry.
Who are some BIPOC artists making work in Portland that you're excited about?
My friend, Katie Nguyen, who runs a show with me. She's incredible. Once you see her on stage, it's just like, by her being herself, it just defies other people's expectations and people find her very absurd. Also my friend, Marcus Coleman, who does comedy here in Portland. I love his work a lot because it's just very fun to watch. It is nice to see these people doing these things—especially in this city—because, as I said, I know it's very hard to do. I like having them here because it gives me someone to talk to about whatever bullshit that we have to deal with. And the good thing is we all hate the same people, which really helps.
How can Portland support you and/or your community?
If you want to support comedians, you have to show up to shows. Be there. We really can't do it without audience. Also, try to highlight—if you see someone that you like—on social media. Make other people aware of their work. Tell your friends about them. People don't realize how big that is. Sometimes I have people who come to me like, "Oh I really loved your set," and they say, "I know you probably hear that a lot" or "You probably don't want me coming to you," and I'm like, "No!" I want you to do that. I do it for validation. Yes, come to me. I never get tired of that.
And money. [Earthquake Hurricane], the show we host [at Ford Food and Drink], for example, is donation-based. Sometimes we have a crowd of 30 people [but] you look at the money and you're just like, "Did you just come to the show and not pay anything?" This is not how you support people—you have to pay for art. People shouldn't expect free art. This is one of the most annoying things ever.
If you want to have someone at your event, especially an artist of color, don't ask them to work for free. This is literally what I do for a living. This is my job and I can't do it for free. People are like, "Do you want to perform? I have this non-profit event." I'm like, "Good for you, but, this here, is a profit organization."
If I care about the cause, I will just give back the money, but assuming that someone is just gonna give when you're paying for the venue and the food and everything else? You don't really value us then. This is the society we live in. Everything costs money. If you're not paying money for it, the artist doesn't have an incentive to produce more. They will have to go find another job and won't have time to produce their art anymore. So, you have to keep them alive.