MOLLY WOODSTOCK
Photography by Celeste Noche
March 3, 2019
Name: Molly Woodstock
Pronouns: they/them
Medium of choice: Writing and audio production. (And photography. And music. And dance.)
Background: Indigenous + white. I'm also queer and trans and vegan.
Astrological signs Sagittarius sun, Aquarius moon, Leo rising, Scorpio Venus.
Karaoke Jam: Despite being a Sag and a Leo rising, I'm usually too self-conscious for karaoke.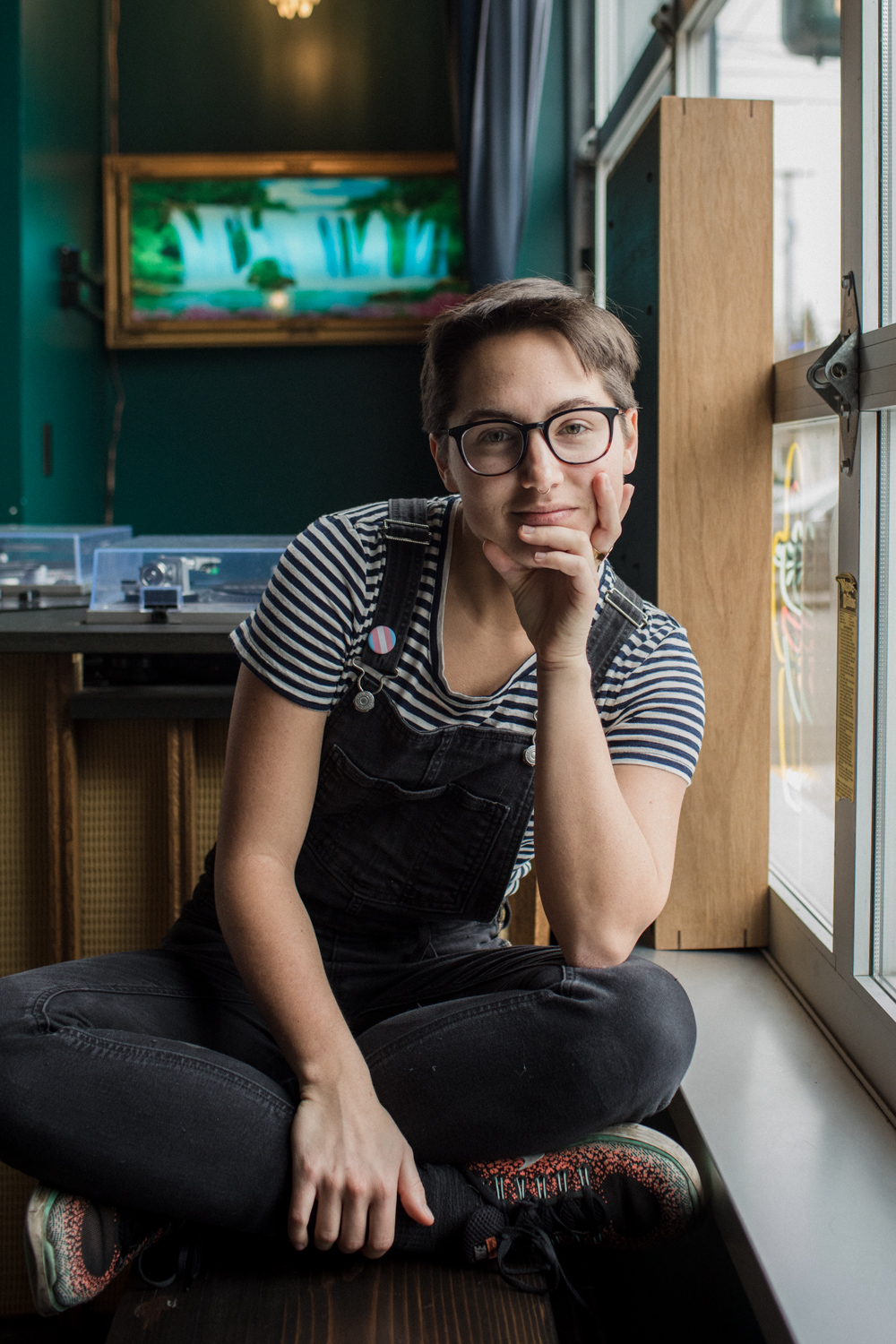 "I think about how much radical shit my friends are able to do, and it inspires me to push harder and show up"
We're introducing today's guest, Molly Woodstock, with an excerpt from their podcast Gender Reveal, Episode 44:

"*Content warning for mentions of assault and far-right extremism*
As you may have heard, there have been a spree of physical assaults on queer and trans folks on the streets of Portland in the last week. There is no way to know exactly how many queer folks have been attacked, but it seems like more than ten. There's no way to tell exactly who's doing it, but folks are suspecting local far-right groups like the proud boys and patriot prayer. What I can tell you, is a list of ways for folks to try to keep themselves safe in times like these, even if you don't live in Portland.

1. Don't travel alone. If you have to, carry a long range self-defense weapon like pepper spray.
2. If you have to walk alone, walk against traffic and in well populated areas.
3. Keep your ear buds out so you can hear what's going on.
4. Keep a mental note of businesses nearby that you can duck into if needed.
5. Tell your friends where you're going/when you expect to get there or better yet, keep a group chat of 3-5 friends and tell all of them when you're leaving.
6. If you're extra freaked out, call a friend and keep them on the phone until you reach your destination."

The list has been edited for length— head to Gender Reveal on Spotify or iTunes for even more safety tips, and to hear their latest full episode featuring Caitlin Benedict.
Tell us about one of your favorite Portland memories:
Presenting at Tender Table with talented journalist angels Tiara Darnell and Celeste Noche (oh heyyyy) made me feel so seen and supported and respected and cared for, and being surrounded by badass queers and women of color at the event was amazing and energizing.
Please share a time it was difficult living in Portland:
When I first moved here in 2013, I had zero friends, zero job leads, and a pile of untreated mental illnesses. I'm really proud of the life and the community that I've built since then, and hope to help others do the same.
How do/did you stay inspired in Portland (/with the Portland community)?

I'm lucky enough to know a bunch of truly inspiring QTPOC who are kicking ass in all sorts of different ways, including Portland in Color alumni Emilly Prado, Salimatu Amabebe, Carlos the Rollerblader, and [former Portlander] Soleil Ho. All of those folks (plus Celeste!) amaze me with their ability to take on all sorts of projects at the same time, giving back to the community through storytelling, art, and organizing, and being their most unapologetic selves while doing so. Sometimes I get overwhelmed just by producing a weekly podcast on top of my full-time job as an editor... but then I think about how much radical shit my friends are able to do, and it inspires me to push harder and show up more for my community.
How can Portland support you and/or your community?
It would mean a lot if you'd subscribe to/share my podcast, Gender Reveal, and donate at patreon.com/gender. We share a lot of those funds with other trans folks—for example, we donate $50/month to Ori Gallery with our Patreon funds, and gave out $650 in grants in November 2018.