SABRINA NAPASAWAN BLATT
Interview by Emilly Prado | Photography by Celeste Noche
April 28, 2019
Name: Sabrina Napasawan Blatt
Pronouns: She/her
Medium of choice: tattoo, painting
Background: I was born in the US. My dad was a lawyer. He got a job in Malaysia, so we moved to Malaysia for a few years, where my brother was born. Then we moved to Thailand, where my mom is from, and I grew up there. I had a rough adolescent period and ended up moving back here, basically on my own, when I was 14 or 15. I was in California, I think I was in Arizona for a year, I lived in Washington for like a second, and then, just going back and forth to Thailand. I wound up in Portland about five years ago, got into the tattoo industry, and that's when I really started drawing and painting.
Jam of the Moment: Atomic by Blondie
Portland artists whose work inspires you: Alena Chun, tattooer Holly Susuki, tattooer Malika Rose, musician Stormy Jackson, visual artist/makeup and stylist Mia Krys, visual artist and co-owner of gallery Alain Gutierrez, tattooer Fran Bittakis, owner of Seizure Palace screen printing and Joop Joop creative Angelica Trimble-Yanu, visual artist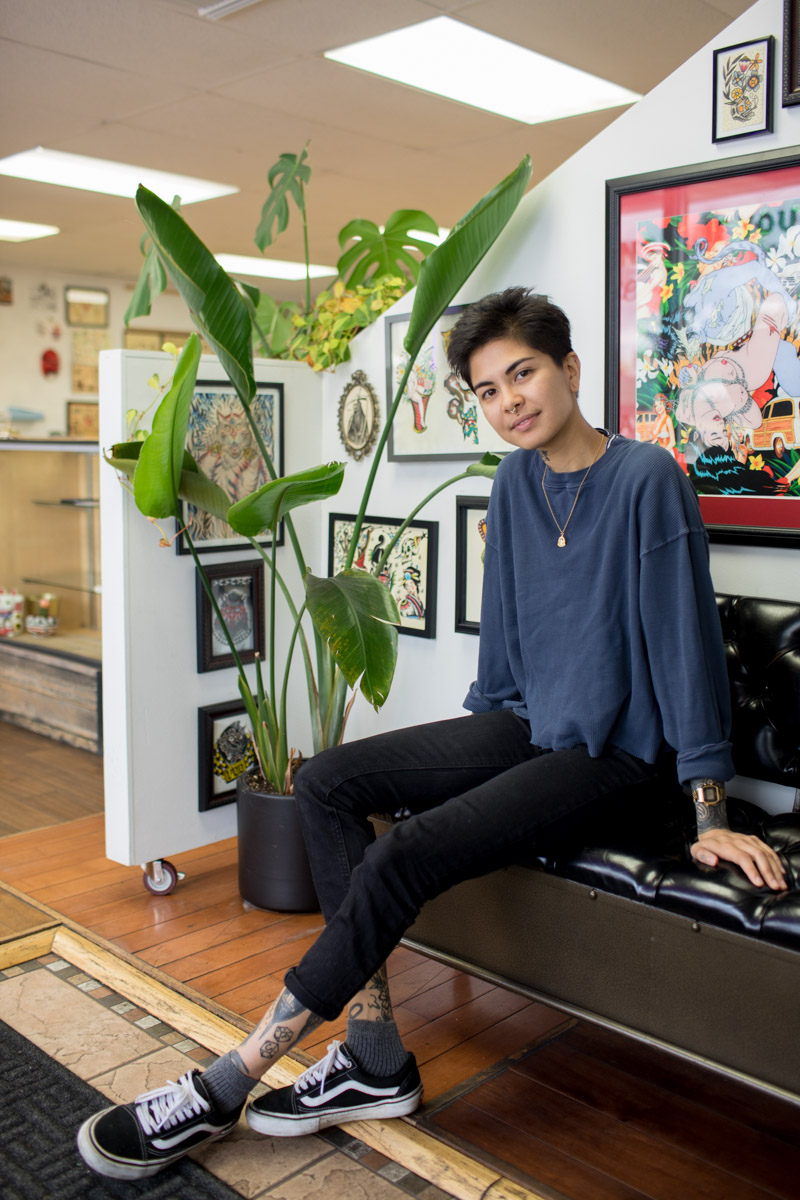 "Getting thrown into an environment like that, you're taught how to be humble quickly and grow tough skin."
Tattooing as an art form, and as a personal process, feels like home for Sabrina Napasawan Blatt. Her enthusiasm for the practice is palpable and is readily reflected in her own openness and outlook on tattoo culture as a whole. Although diving headfirst into the industry within the past few years has been tough (especially in the costly state of Oregon) Blatt's earned her stripes with immense support from a robust community of fellow artists. Today, she's a full-time tattooer at Powell's Tattoo and says the experience has been transformational and multifaceted, and it's still just the beginning.
Can you just about what your personal journey to tattooing has been like?
I was always very interested in tattoos. Right before I moved to Portland, I got this big sleeve started on my arm and I felt so right in my body, which was something I'd never really felt before. I was like, "Okay I'm in love with this, but I don't draw and I don't paint and it seems impossible."
But when I moved to Portland, a few years in, I started getting tattooed at Scapegoat pretty frequently and became friends with the owner, Brian. After a period of time, I told him I wanted to learn how to tattoo and he was like, "I knew you were gonna say that!"
A little while later, he asked me to come scrub tubes which is pretty much just the most disgusting part of the job. You're literally in the line of fire—of biohazards—which was amazing though because it opened the door for me to get experience working in a shop that was busy, with really amazing tattooers that I just adored.
I can't say it was easy. There's a lot of social strain that comes with being the new person—especially a young woman. There was just so much pressure in that sense. I didn't really know how to take shit and take criticism well. I was very much defensive. Getting thrown into an environment like that, you're taught how to be humble quickly and grow tough skin. There were definitely days where I wanted to cry from so many things. It was a hard job, but I learned a lot, and I think I got a really good work ethic from just starting at the bottom like that.
I was immersed in the environment. I was allowed to watch. I painted with the tattooers in the evenings sometimes. They taught me how to design, how to paint. If it wasn't for all of them, I would not be where I am now, that's for sure.
I was working for [Scapegoat] while I going through tattoo school which is, unfortunately, a big part of getting licensed in Oregon. It's a huge investment, for time and money, and it's very limiting for a lot of people. You can't get into tattooing in Oregon unless you can commit this amount of time and money to this thing that doesn't even really guarantee a job.
That was a scary jump because I was just worried about what was going to happen afterwards. Luckily when I got done with tattoo school, I got hired here right away, so I've been cutting my teeth ever since.
Can you talk a little bit about what your personal artistic process is like?
I think the only reason I have the mediums of art I do outside of tattooing is purely based from learning how to draw for tattoos and designing with that kind of framework in mind.
I just have to get into the headspace of drawing. Drawing for appointments is different because it's like work. Working under pressure, for me, is a lot more of a motivator, but when I'm drawing flash [or] a painting, I have to start something and then just feel so connected to what I'm drawing, and so into the concept, that I can't stop working on it for the next few days.
It gets harder the more I've been tattooing though to find that creative juice in me—to keep going and keep coming up with new concepts.
What has your personal relationship to tattoos been like?
I absolutely love having them on my body. The more tattooed I get, I think the more painful they've become which is very strange. Maybe I'm just getting older, or maybe all the spots left on my body are just really painful now. But it's just one of those things where I definitely know I'm going to be covered and it's part of the process. It's a part of why I even got into this to begin with. I love tattoos.
Are there any topics you feel should be included or highlighted more in discussions about tattoo culture?
It's such a shut-out world. Everybody's very protective of it, which, now that I'm in it, I can totally see why and understand. Do I think it's right? Not necessarily. There are pros and cons.
The reality of tattooing has changed a lot, and it's not just here—it's everywhere. Oregon has a lot more requirements and hoops to jump through, but people do it because they want to be a part of it. I wouldn't even say it's necessarily a bad thing that there are so many options here, but there are definitely complaints about how saturated everything is now. It comes from a really competitive place [but] it's not a bad thing that there's more to be offered in such a small area. I think it actually is great because it lets people be more specific about what they want.
On top of that, working at walk-in shops like [Powell Tattoos], we're doing styles that we never really would have done otherwise and I feel like it's helped us become more versatile as tattooers.
Certain people have books closed forever. It's like, well, you can always search around. Somebody else can definitely do it for you. So I think that's what keeps the cycle going. There's more to offer. That means the clientele is expanding their horizons and that means that we're getting to do more work and it's not necessarily a bad thing!
What's it like participating in an art form that is so old?
It has been around forever, that's for sure, but the way I look at it is I'm picking up from where the more electric aspect of it started. I'm not a hand poke artist and I don't market myself or feel like I'm doing magic tattoos or anything like that.
It's more about creating a product for people to wear on their bodies, forever. But also using it as a form of self expression, which is where American Traditional tattooing came from. Most of it was sailors in port towns [getting] memorabilia.
At this point, it's the 21st century. There's so much information right at our fingertips. We have access to such much. We can actually just begin to collect and leisurely put things on our bodies that we feel are expressive. And Instagram has straight up changed everything.
As far as [tattooing] being thousands of years old though, it's pretty awesome, to be doing this thing that's been going on forever.
How can Portland support you and/or your work?
By coming in to get tattooed!